Page Menu

12-11-2007: Workshop on The Art of Making Intelligent Decisions with Dr. Gerald Nosich
2008 Workshop on The Art of Making Intelligent Decisions with Dr. Gerald Nosich

Business Leaders Turn to Critical Thinking,
"The Art of Making Intelligent Decisions"


Dillon Beach, CA (December 11, 2007) - The Foundation for Critical Thinking, in association with the National Council for Excellence in Critical Thinking, will host a 3-day workshop on the Art of Making Intelligent Decisions at the Berkeley Doubletree Hotel and Marina near the UC Berkeley Campus on February 29 through March 2, 2008. The central mission of the seminar is to introduce the concepts and tools of critical thinking to business executives, managers, decision makers and team leaders. The workshop will be administered by Dr. Gerald Nosich, author of "Learning to Think Things Through: A Guide to Critical Thinking in the Curriculum."
Critical thinking is a seminal concept and integral collection of best practices applicable to teaching, learning, and business management. Understood and applied well, it facilitates inquiry, discourse, and understanding in any and all domains and disciplines. Its central benefit is enabling anyone to think independently, more clearly, accurately, precisely, relevantly, broadly, deeply, logically, and significantly for better understandings, judgments and outcomes in their professional, as well as personal, lives.
As our world gets more cluttered and complex "there is only one way to cope," says Dr. Nosich. "And that's by gaining better command of your mind in everything you do. Critical thinking gives you more effective control over your life and work. It helps you deal better with adversity and helps you transform more of your dreams and objectives into reality. It consists of practical skills anyone can learn, practice, and improve upon. And, it offers these skills to anyone willing to do the intellectual work to acquire them. But," he cautioned, "it isn't something you're going to master in a three day workshop."
The world in which we now live requires us to continually relearn and routinely rethink our standard assumptions and decisions, and to regularly reevaluate the way we work and live. "In short," stressed Nosich, "there is a new world facing us; one in which the power of the mind to command itself regularly, while engaging in self-analysis, will increasingly determine the productivity of our work, the quality of our lives, and perhaps even our very survival."
The Foundation emphasizes the workshop is designed to demonstrate techniques that allow "you to take your thinking apart and assess it for quality." Those who attend "will discover universal standards by means of which you can assess virtually any thinking and improve it. Then, you will learn how to apply the tools of critical thinking to every day decisions, as well as to monumental ones."
The Center, National Council for Excellence, and the Foundation for Critical Thinking have together hosted critical thinking academies, workshops, and conferences for more than a quarter century. During that time, these sister entities have played a key role in defining, structuring, assessing, improving and advancing the principles and best practices of fair minded critical thought in education and in society. Throughout their work, they have emphasized and argued for the importance of teaching critical thinking in a strong, rather than in a weak, sense. They are committed to a clear and "substantive" concept of critical thinking (rather than to one that is ill-defined or vague); to a concept that interfaces well with the disciplines, that integrates critical with creative thinking, that emphasizes the affective as well as the cognitive dimension of critical thinking, that highlights intellectual standards and traits. They advocate a concept of critical thinking that organizes instruction in every subject area at every educational level, around it, on it, and through it.
To Register for the Business Workshop on The Art of Making Intelligent Decisions, log onto:
http://www.criticalthinking.org/conference/Business_Seminar.cfm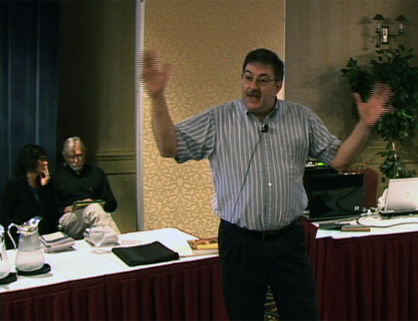 Dr. Gerald Nosich is a noted authority on critical thinking. He has given more than 150 national and international workshops and lectures on all aspects of teaching for critical thinking. He has also worked with the U.S. Department of Education on a project for the National Assessment of Higher Order Thinking Skills, served as the Assistant Director of the Center for Critical Thinking, and was featured as a Noted Scholar at the University of British Columbia. He is a Professor of Philosophy at Buffalo State College in New York. His second book, "Learning to Think Things Through: A Guide to Critical Thinking Across the Curriculum," has been translated into Spanish, Chinese, and Arabic. He is currently working on a guide to Assessing Critical Thinking in a Field or Discipline. Dr. Nosich is a witty presenter whose down-to-earth sense of humor adds spice to his practical insights.