Products



Large Orders

Wholesale/Retail Bookstores, Universities and School Districts

Bulk Order Form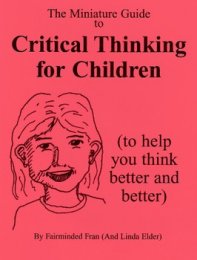 VIEW A SAMPLE OF ITEM
including: Table of Contents, overviews and selected pages.
Adobe Acrobat PDF (Limited Version)

ADDITIONAL INFORMATION AVAILABLE BELOW
Critical Thinking for Children, 2nd edition
Author: Dr. Linda Elder
Publisher: Foundation for Critical Thinking
Copyright: 2006
Pages: 24
Dimensions: 4 1/4" x 5 1/2"
ISBN (10Digit): 0-944583-29-6
ISBN (13Digit): 978-0-944583-29-6
This Thinker's Guide is available through electronic license for educational institutions. Faculty and administrators - email cct@criticalthinking.org for a desk copy or to inquire.
The essence of critical thinking concepts and tools written in language accessible to children. This mini-guide is designed for K–6 classroom use. It explains basic critical thinking principles to children using cartoon characters. It focuses on the concepts of fairmindedness and selfishness, the elements of reasoning, intellectual standards, and intellectual virtues.

*not included in set of 22 Thinker's Guides
$5.00