Rowman & Littlefield Are Bringing the Thinker's Guide Library to a Greater Readership than Ever Before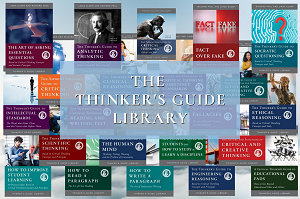 It is our pleasure to announce the Foundation for Critical Thinking's partnership with Rowman & Littlefield Publishing Group! As of June 1st, 2019, Rowman & Littlefield is co-publisher and sole distributor of the Thinker's Guide Library.

We are thrilled that Rowman & Littlefield sees the importance in advancing comprehensive, fairminded critical thinking around the world, and that it has chosen to take part in the critical thinking movement by publishing and distributing the Thinker's Guide Library. While you can still browse this series in our online bookstore, the product page for each guide will now link to where that guide can be ordered through the Rowman & Littlefield site.

We are grateful for the opportunity we now have to shift our energy and focus toward live events, online courses, and our upcoming Center for Critical Thinking Online Community - an interactive learning and social media platform centered upon critical thinking. We sincerely thank Rowman & Littlefield for enabling us to advance in these exciting directions.