All conference delegates are invited to participant in …

The Bertrand Russell Distinguished Scholars Lecture and Conversation

This important dimension of the conference highlights the work and thinking of distinguished scholars throughout history who have contributed significantly to the conception, and advancement, of fairminded critical societies. Russell scholars may come from any subject, field, or discipline, or from any domain of human thought. This year's scholar is public citizen Ralph Nader. All conference participants are invited to participate in the Russell program. Only conference registrants will be admitted.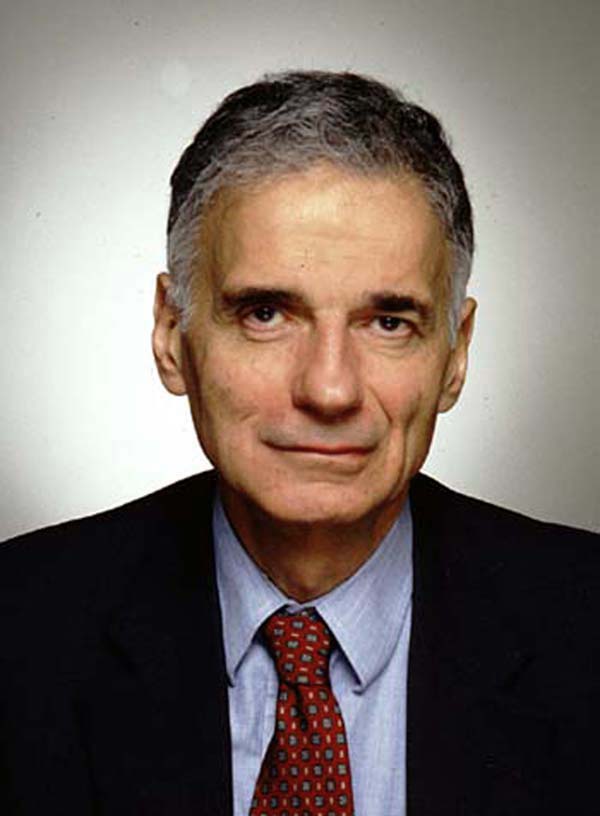 Ralph Nader, Public Citizen
Honored by Time Magazine as "One of the 100 Most Influential Americans of the 20th Century" and as "One of the 100 Most influential Figures in American History" by The Atlantic, consumer advocate and Green Party presidential candidate Ralph Nader has devoted his life to giving ordinary people the tools they need to defend themselves against corporate negligence and government indifference. With a tireless, selfless dedication, he continues to expose and remedy the dangers that threaten a free and safe society.
The subject of the critically acclaimed documentary An Unreasonable Man, Nader also penned the introspective book The Seventeen Traditions about the earliest days of his own life, where he revisits 17 key traditions he absorbed from his parents, siblings, and the people in his community and draws from them inspiring lessons for today's society.
Nader released his first novel, Only the Super-Rich Can Save Us in March 2011. The book presents a "practical utopia" outlining the lasting improvements to society that America's most powerful figures could achieve if they pooled their resources toward a singular goal. Legendary magazine editor Lewis Lapham called the book "as inspirited a work of the political imagination as Tom Paine's Common Sense." His latest work is Told You So: The Big Book of Weekly Columns, which presents a panoramic portrait of the problems confronting our society and provides examples of the many actions an organized citizenry could and should take to create a more just and environmentally sustainable world.
Recently, Nader announced his plans for a museum in his Connecticut hometown that celebrates victories of the law over corporate power. The American Museum of Tort Law, which is set to be built in a former bank building in downtown Winsted, will hold appeal for an audience far beyond law school students: visitors will learn that the jury system serves ordinary citizens.
Nader's foray into public life began in 1965 when he took on the Goliath of the auto industry with his book Unsafe at Any Speed, a shocking expose of the disregard carmakers held for the safety of their customers. The Senate hearing into Nader's accusations and the resulting life-saving motor vehicle safety laws catapulted Nader into the public sphere.
Nader quickly built on the momentum of that success. Working with lawmakers, he was instrumental in creating the Occupational Safety and Health Administration (OSHA), the Environmental Protection Agency (EPA), and the Consumer Product Safety Commission. Laws he helped draft and pass include the Safe Drinking Water Act, the Meat and Poultry Inspection Rules, the Air and Water Pollution Control Laws, and the Freedom of Information Act. Working to empower the average American, Nader has formed numerous citizen groups, including the Center for Auto Safety, Public Citizen, the Pension Rights Center, the National Coalition for Universities in the Public Interest, and the student Public Interest Research Groups (PIRGs) that operate in over 20 states. He has also worked with alumni classes, including his own at Princeton University and Harvard Law School, to expand their efforts beyond parties and reunions to community projects that systemically advance social justice.
Successfully predicting the current financial crisis years ago, Nader has outlined a ten-point plan for recovery. His plan involves sweeping reforms for the financial and housing markets, as well as increased public accountability for any institution seeking a bailout. Nader has also defended the integrity of public office by rallying against the laws allowing multinational corporations to make unlimited donations to political campaigns.
Believing that Republicans and Democrats are so close ideologically he calls them "tweedle-dee and tweedle-dum," Nader organized the Green Party's first presidential campaign in 1996 to challenge the "duopoly" of the two-party system. He received 700,000 votes on a limited campaign budget of $5,000 and he ran again in 2000, receiving 2.8 million votes. His goal is to build the foundation of a third political party and create a robust progressive political movement that rallies around issues rather than empty slogans and figureheads.
Among his best-selling books are Crashing the Party: How to Tell the Truth and Still Run for President, Winning the Insurance Game, Why Women Pay More, and Getting the Best from Your Doctor. Other titles include Children First: A Parent's Guide to Fighting Corporate Predators, No Contest: Corporate Lawyers and the Perversion of Justice in America, and The Ralph Nader Reader. He also writes a weekly column, "In the Public Interest," which runs in newspapers around the US.
Both citizens and corporate audiences listen intently to what Nader has to say. Years after they graduate, college students tell him how his lecture changed their lives. His message is simple and compelling: "To go through life as a non-citizen would be to feel there's nothing you can do, that nobody's listening, that you don't matter. But to be a citizen is to enjoy the deep satisfaction of seeing the prevention of pain, misery, and injustice."
For more information on Mr. Nader, visit www.apdspeakers.com