for the
43rd Annual International Conference on Critical Thinking

Pre-Conference: July 23, 2023
Main Conference: July 24 - July 28, 2023

About Guest Presentations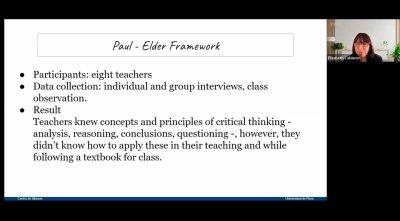 Guest Presentations will be prerecorded by conference participants whose proposals have been approved by Fellows of the Foundation for Critical Thinking. In these presentations, presenters share their experiences in bringing critical thinking into the teaching and learning process, into daily decision-making, throughout organizations or departments, or into any other aspect of work or life. Guest Presenters may share their research in critical thinking, or their developed theory and application of critical thinking.

Guest Presenters will have the option to host live Q&A sessions focused on the content of their presentations, in which they can answer participant questions and elaborate upon their presentations as they wish.

To submit a proposal, please see the guidelines below.
Types of Proposals We Are Seeking

All proposed Guest Presentations should be based on sound research, substantive theory, and/or substantive experience with critical thinking. All proposals will be evaluated by Senior Fellows of the Foundation for Critical Thinking.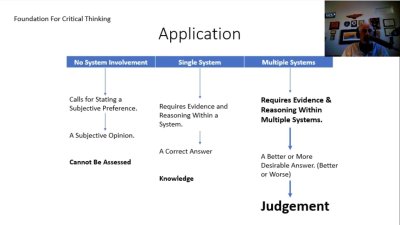 We invite proposals that focus on applying critical thinking to instruction (in any subject, discipline, or profession), or to important issues requiring critical thinking in any domain of work or life; we invite proposals from faculty, administrators, scholars,  professionals, military and government personnel, and teachers at all levels; we invite proposals that explore the relationships between critical thinking and reasoning within academic subjects and disciplines, within professions, or within significant domains of human life; we invite proposals that deal with overcoming the barriers to critical thinking development; we welcome proposals focused on cultivating the intellect, and on developing and assessing intellectual constructs in any field of study.

Furthermore, we invite proposals focused on the relationship between critical thinking and the evolution of the public citizen - thus, we invite proposals that highlight the analysis and assessment of thought in connection with the development of intellectual virtues (such as  intellectual humility, intellectual empathy, and intellectual integrity) in any part of life. All proposed Guest Presentations should dovetail with the core concepts of critical thinking presupposed by the Annual International Conference on Critical Thinking.
Guidelines for Submitting Your Proposal
To submit a proposal, please email Mr. Jon Kalagorgevich at jon@criticalthinking.org. Proposals must be received by April 21st, 2023. Please include your proposal directly in the body of the email, rather than as an attachment. (Supporting attachments, such as handouts, are acceptable.) For yourself and for any co-presenters, please include all of the following information in your proposal:
1. First and last name.

2. The name of your institution and your professional title, if applicable.

3. The title of the Guest Presentation you are proposing.

4. A brief abstract, including the purpose of your Guest Presentation. Those who might view your presentation should have a reasonably clear idea of what to expect by reading the abstract.

5. A brief description of your conception of critical thinking. E.g., 'To me, critical thinking is . . .'

6. Your preferred contact telephone number.
Requirements for Approved Presenters
Guest Presenters whose proposals are approved are required to agree to the following, if they wish for their presentations to be included in the conference program:
1. Record a video of yourself or your group presenting on the topic of your approved proposal. The time limit for the recording is 30 minutes.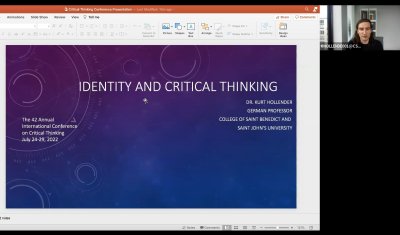 (You may conduct your prerecorded presentation however you see fit: it can consist of PowerPoint slides accompanied by verbal commentary, of you or your group presenting with visual aids, etc.)

2. Make this video available to the Foundation for Critical Thinking no later than May 29th, 2023.

3. Grant the Foundation for Critical Thinking legal rights to publish your presentation video in perpetuity, including for the 43rd Annual International Conference on Critical Thinking. (This does not affect copyright ownership for the video, which will remain with you.)

4. Submit any supplemental materials for your presentation (handouts, supporting literature, etc.) in digital format by June 23rd, 2023.

5. Register for at least the Main Conference no later than June 23rd, 2023, the same day that video submissions are due.

6. Participate in the conference Focal Sessions to the extent you are able.