The Center for Critical Thinking Community Online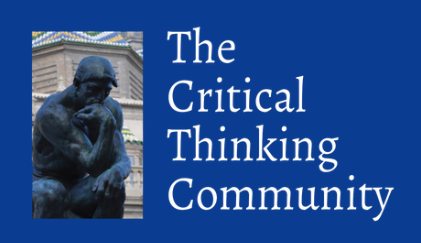 The Foundation and Center for Critical Thinking are pleased to invite you the Center for Critical Thinking Community Online. This interactive learning and communications platform provides subscribers a place to develop together as reasoners through a multitude of avenues, including:


A self-paced Academy , where you will find dozens of interactive learning activities for you (and your students); these can be completed, saved, and shared with others and in class.
The world's largest online critical thinking Library, containing articles, books, and countless hours of video.

Study Groups - join one, or create your own!

"ConneCT " – the site's social media component, where you can publish your thoughts, share completed activities, and explore

"The Newsroom" – comment on articles dealing with some aspect or application of critical thinking, and rate how well each article adheres to the Intellectual Standards.
A  Blog with Dr. Linda Elder and Dr. Gerald Nosich, leading International authorities on critical thinking.  
Monthly Webinar Q&A Sessions, in which members can ask our experts about specific components or applications of critical thinking.


No internet trolls. No empty gossip. Just learning, discussing ideas, and striving toward the most fairminded critical community that humanity is capable of.



30-Day Free Trial Available!

Educators, Administrators and their students.

Independent scholars.

Professionals.

Anyone looking to learn the tools of ethical critical thinking and how to apply them to everyday work, study, and life, as well as to the major problems facing human beings and our planet today.



Institutional Memberships Available

Special institutional memberships are available for schools, colleges, universities, and other organizations! Email cct@criticalthinking.org for details.