The purpose of assessment in instruction is improvement. The purpose of assessing instruction for critical thinking is improving the teaching of discipline-based thinking (historical, biological, sociological, mathematical, etc.) It is to improve students' abilities to think their way through content, using disciplined skill in reasoning. The more particular we can be about what we want students to learn about critical thinking, the better can we devise instruction with that particular end in view.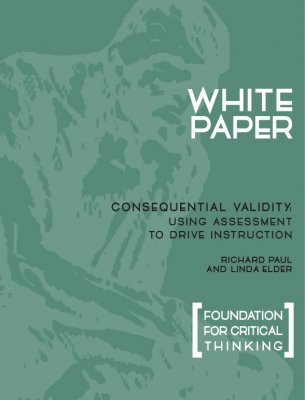 For deeper understanding of the relationship between critical thinking assessment and instruction, read the white paper on consequential validity by Richard Paul and Linda Elder:
The Foundation for Critical Thinking offers assessment instruments which share in the same general goal: to enable educators to gather evidence relevant to determining the extent to which instruction is teaching students to think critically (in the process of learning content).

To this end, the Fellows of the Foundation recommend:
that academic institutions and units establish an oversight committee for critical thinking, and


that this oversight committee utilizes a combination of assessment instruments (the more the better) to generate incentives for faculty, by providing them with as much evidence as feasible of the actual state of instruction for critical thinking.
The following instruments are available to generate evidence relevant to critical thinking teaching and learning:
All of the above assessment instruments can be used as part of pre- and post-assessment strategies to gauge development over various time periods.