The Academy of Critical Thinking
Offering Online Learning Workshops and Conferences for Educators and Administrators
Advancing the concept and realization of fairminded critical societies through scholarship and advocacy in critical thinking, recognition of exemplary practice, and ongoing learning opportunities.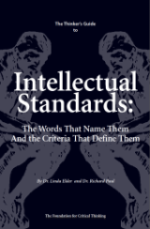 Academic Webcast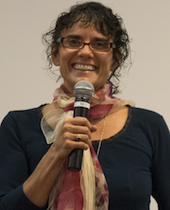 Presented by Dr. Linda Elder:
'Why Faculty Must Learn to
Contextualize Intellectual Standards
Within Their Subjects and
Disciplines'

April 14, 2016
2:00-3:00 p.m. PDT (5:00-600 Eastern)

We thank everyone who attended! Stay tuned for
announcements of future webcast; registration will
open here.
The Foundation for Critical Thinking is a 501(c)(3) nonprofit organization. For 36 years we have argued for a fairminded conception of critical thinking in education and society. Please champion the work of the FCT through a contribution or purchase of our educational materials. Since our inception, we have avoided opening our website to outside advertisers and marketers, but do need your support as we continue our work in advancing critical societies. Purchase one of our critical thinking books for a friend or colleague - or choose one of our Thinker's Guide Sets from our Thinker's Guide Library.

Visit our bookstore ...

Contribute to the work of the Foundation
Video From Past Complimentary Webcasts With Dr. Linda Elder:

Comments from past webcasts:
"I thank Linda very much for sharing all these insights."
"[I'm writing] to express my gratefulness for this very rich learning opportunity, thank you so much Linda. Very empowering."
"Thank you Dr. Elder. This was a great presentation and I am very happy to have participated in it."
"Thank you for helping us to prepare our students for deeper thinking."
Customized Online Professional Development Programs focused on Advancing Critical Thinking in Education and Society
The Foundation for Critical Thinking now offers customized online professional development programs for our global community. These online programs augment our annual International Conference and other on-site academies and professional development opportunities. All online learning opportunities in our academy focus on advancing foundations of critical thinking and helping faculty and students contextualize these foundations in the important domains of human life – in teaching and learning, and in professional and personal life.
An essential feature of our online professional development programs is that they include routine, real-time online Socratic workshops in which our Fellows and Scholars engage participants in a way that mirrors our brick-and-mortar classroom design. In our customized programs, all participants are asked to join the class meetings by both audio and video connection through their computers.
(Once registered for a given workshop, directions are provided to attendees through email, which enable them to connect on the day of the online workshop with their computers - which must utilize a webcam.) Through this audio/video process, all participants will be able to see and converse with our presenter directly throughout all of the online workshops. Our online workshops are therefore interactive and inclusive. And they offer opportunities, throughout, for faculty to contextualize fundamental critical thinking ideas in their courses - or for administrators and leaders to contextualize these essential ideas within professional work settings. Knowledge gained in each of our online workshops builds upon in all previous online workshops taken in our online professional development programs.
All of our online workshops and professional development programs are led by Fellows and Scholars of the Foundation for Critical Thinking. Read about our presenters.
To learn more about our customized online professional development programs, please contact Ms. Lisa Sabend, who can be reached at lisa@criticalthinking.org, or by phone at 1-800-833-3645.