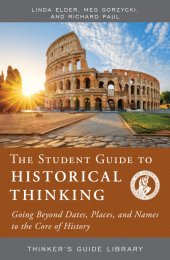 VIEW A SAMPLE OF ITEM
including: Table of Contents, overviews and selected pages.
Historical Thinking Preview

ADDITIONAL INFORMATION AVAILABLE BELOW
Student Guide to Historical Thinking: Going Beyond Dates, Places, and Names to the Core of History
Contact Info for Rowman & Littlefield:



Toll free: (800) 462-6420 ext. 3024


Fax: (800) 338-4550


Orders to orders@rowman.com


Queries to customercare@rowman.com


Learning history as only a collection of dates and names prevents us from seeing the true value of the past. This volume of the Thinker's Guide Library reveals the study of history as a mode of thinking with real current-day implications. It begins with a focus on important historical understandings and then presents strategies for fostering fairminded historical thinking. Students learn to engage with the past in a way that promotes critical thinking about the present and future.

As part of the Thinker's Guide Library, this book advances the mission of the Foundation for Critical Thinking to promote fairminded critical societies through cultivating essential intellectual abilities and virtues across every field of study across world.


Rowman & Littlefield Publishers / The Foundation for Critical Thinking
Pages: 94 • Trim: 8 x 5 1/2
978-0-944583-46-3 • Paperback • January 2011 •
$21.99

• (£14.95)
978-1-5381-3394-1 • eBook • June 2019 •

$20.50

• (£13.95)
Series: Thinker's Guide Library
$26.00