Products



Large Orders

Wholesale/Retail Bookstores, Universities and School Districts

Bulk Order Form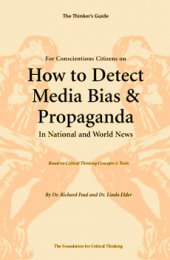 VIEW A SAMPLE OF ITEM
including: Table of Contents, overviews and selected pages.
How to Detect Media Bias & Propaganda Sample

ADDITIONAL INFORMATION AVAILABLE BELOW
How to Detect Media Bias & Propaganda, 4th edition
Author: Richard Paul and Linda Elder
Publisher: Foundation for Critical Thinking
Copyright: 2008
Pages: 49
Dimensions: 51/4" x 8"
ISBN (10Digit): 0-944583-20-2
ISBN (13Digit): 978-0-944583-20-3
Also available through these e-book retailers:

This Thinker's Guide is available through electronic license for educational institutions. Faculty and administrators - email cct@criticalthinking.org for a desk copy or to inquire.
Designed to help readers come to recognize bias in their nation's news, to detect ideology, slant, and spin at work, and to recognize propaganda when exposed to it, so that they can reasonably determine what media messages need to be supplemented, counterbalanced, or thrown out entirely. It focuses on the internal logic of the news as well as societal influences on the media.
$6.00