Products



Large Orders

Wholesale/Retail Bookstores, Universities and School Districts

Bulk Order Form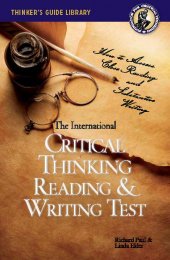 VIEW A SAMPLE OF ITEM
including: Table of Contents, overviews and selected pages.
Adobe Acrobat PDF (Full Version 1.5MB)

ADDITIONAL INFORMATION AVAILABLE BELOW
The International Critical Thinking Reading and Writing Test
Author: Richard Paul and Linda Elder
Publisher: Foundation for Critical Thinking
Copyright: 2006
Pages:64
Dimensions: 51/4" x 8"

ISBN (10Digit): 0-944583-32-6
ISBN (13Digit): 978-0-944583-32-6
Critical Thinking Reading & Writing Test assesses the ability of students to use reading and writing as tools for acquiring knowledge. To appreciate the significance of this test, it is important to understand the integral relationship between reading, writing, and learning.
Pricing for a site license for this test is the same as pricing for individual copies of the test. To discuss a site license for your institution, contact us at cct@criticalthinking.org
$6.00