Products



Large Orders

Wholesale/Retail Bookstores, Universities and School Districts

Bulk Order Form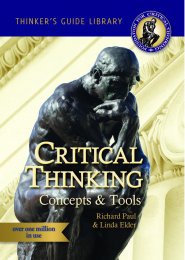 VIEW A SAMPLE OF ITEM
including: Table of Contents, overviews and selected pages.
Concepts & Tools PDF preview

ADDITIONAL INFORMATION AVAILABLE BELOW
The Miniature Guide to Critical Thinking Concepts & Tools, 7th edition
Author: Richard Paul and Linda Elder
Publisher: Foundation for Critical Thinking
Copyright: 2014
Pages: 24
Dimensions: 4" x 51/2"
ISBN: 978-0-9857544-0-2
Also available through these e-book retailers:

This Thinker's Guide is available through electronic license for educational institutions. Faculty and administrators - email cct@criticalthinking.org for a desk copy or to inquire.
This miniature guide, which has sold more than half a million copies, is widely used in teaching and learning, in personal and professional life. It distills the essence of critical thinking into a 24-page, pocket-sized guide. It introduces the interrelated complex of critical thinking concepts and principles implicit in the works of Richard Paul and Linda Elder. This guide is widely used at the college level. It can be used as a critical thinking supplement to any textbook or course.
$4.00