Products



Large Orders

Wholesale/Retail Bookstores, Universities and School Districts

Bulk Order Form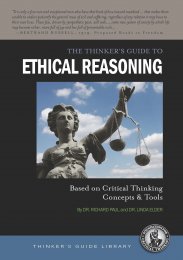 VIEW A SAMPLE OF ITEM
including: Table of Contents, overviews and selected pages.
Ethical Reasoning Sample

ADDITIONAL INFORMATION AVAILABLE BELOW
Ethical Reasoning
Author: Richard Paul and Linda Elder
Publisher: Foundation for Critical Thinking
Copyright: 2013
Pages: 56
Dimensions: 51/4" x 8"
ISBN (10Digit): 0-944583-17-2
ISBN (13Digit): 978-0-944583-17-3
Also available through these e-book retailers:

This Thinker's Guide is available through electronic license for educational institutions. Faculty and administrators - email cct@criticalthinking.org for a desk copy or to inquire.
This guide provides insights into the nature of ethical reasoning, why it is so often flawed, and how to avoid those flaws. It lays out: the function of ethics, its main impediments, the social counterfeits of ethics, the elements of ethical reasoning, important ethical abilities and traits, the vocabulary of ethics, and the intellectual standards essential to the assessment of ethical reasoning.

$6.00