September 18, 2020
1:00 p.m. - 7:00 p.m. Eastern Time (10:00 a.m. - 4:00 p.m. Pacific)

The pre-conference will focus on the fundamentals of critical thinking. This session will lay the foundation for all other conference sessions. It will introduce you to some of the most basic understandings in critical thinking – namely, how to analyze thinking, how to assess it, and how to develop and foster intellectual virtues or dispositions.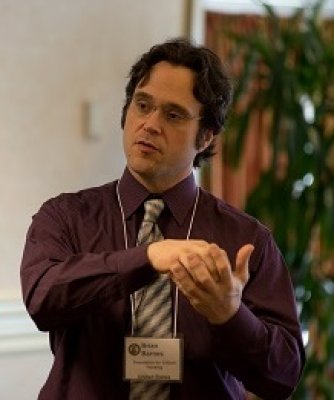 One conceptual set that we will focus on is the elements of reasoning, or parts of thinking. The elements or parts of reasoning are those essential dimensions of reasoning that are present whenever and wherever reasoning occurs —independent of whether we are reasoning well or poorly. For instance we use assumptions in our reasoning; we pursue purposes; there are implications and consequences of our thinking, and so forth. Working together, the elements of reasoning shape reasoning and provide a general logic to the use of thought. They are presupposed in every subject, discipline, and domain of human thought.

A second conceptual set we will focus on is universal intellectual standards. One of the fundamentals of critical thinking is the ability to assess reasoning. To be skilled at assessment requires that we consistently take apart thinking and examine the parts with respect to standards of quality. We do this using criteria based on clarity, accuracy, precision, relevance, depth, breadth, logicalness, and significance. Critical thinkers recognize that, whenever they are reasoning, they reason to some purpose (element of reasoning). Implicit goals are built into their thought processes. But their reasoning is improved when they are clear (intellectual standard) about that purpose or goal. Similarly, to reason well, they need to know that, consciously or unconsciously, they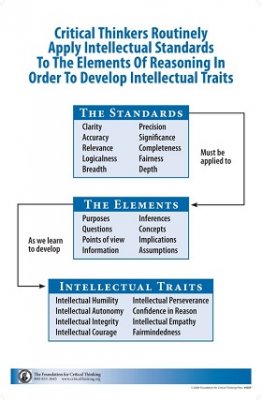 are using relevant (intellectual standard) information (element of reasoning) in their thinking. Furthermore, their reasoning improves if and when they make sure the information they are using is accurate (intellectual standard).

A third conceptual set in critical thinking is intellectual virtues or traits. Critical thinking does not entail merely intellectual skills. It is a way of orienting oneself in the world. It is a way of approaching problems that differs significantly from that which is typical in human life. People may have critical thinking skills and abilities, and yet still be unable to enter viewpoints with which they disagree. They may have critical thinking abilities, and yet still be unable to analyze the beliefs that guide their behavior. They may have critical thinking abilities, and yet be unable to distinguish between what they know and what they don't know, to persevere through difficult problems and issues, to think fairmindedly, to stand alone against the crowd. Thus, in developing as a thinker, and fostering critical thinking abilities in others, it is important to develop intellectual virtues – the virtues of fairmindedness, intellectual humility, intellectual perseverance, intellectual courage, intellectual empathy, intellectual autonomy, intellectual integrity, and confidence in reason.

This session is designed for new conference attendees, as well as returning registrants who appreciate the importance of continual practice in the fundamentals of critical thinking for their own advancement.