Guest sessions will be hosted by panels of conference participants whose proposals have been approved by Fellows of the Foundation for Critical Thinking. They will be held Wednesday, July 24th.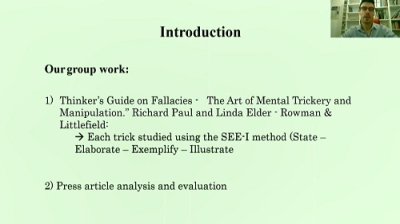 We are specifically seeking proposals in the following subject areas:
Critical Thinking in the Natural Sciences (chemistry, biology, physics, etc.)


Critical Thinking in the Social Sciences (psychology, sociology, political science, etc.)


Critical Thinking in the Formal Sciences (mathematics, computer sciences, statistics, etc.)


Critical Thinking in the Humanities (history, the arts, philosophy, etc.)


Critical Thinking in the Professions (medicine, business, law, public policy, etc.)


Critical Thinking in Personal Life


Critical Thinking in Education


Critical thinking in any subject area not listed above to which it can be applied.

In these sessions, Guest Presenters will be placed in groups of 2-3 based upon overlapping subject matter. Each presenter will take turns presenting on his or her proposed topic for up to fifteen (15) minutes, and after everyone has presented, the remaining time will be used for Q&A.

Depending on the number of approved proposals, the broad subject areas above may be further divided (e.g., "Critical Thinking in History" may branch off from the Humanities group.)

Guest Presenters may share their critical thinking research, their development of critical thinking understandings, and their experiences and ideas in bringing critical thinking into teaching, learning, or other aspects of work and life.
To submit a proposal, please see the guidelines below.